How Long will it take to install a Spray Foam Roof?
SPF Roofing Installation
The installation of an SPF roof will vary slightly depending on the characteristics of the existing roof. Generally speaking, however, the process can be broken down into three phases:
Prep work: your roof will either be pressure washed or power broomed.
Foam Application process.
Finishing work includes applying the elastomeric roof coating and cleaning up.
Spray foam roofs are installed in a timely manner, and can offer less downtime during installation than other roofing system.
Typically an average residential home takes 1-2 days. A Large commercial building can take 1-5 days, depends on size and intensity of work involved. At Levy B., we are always very clear in communicating with our customers.
What is Elastomeric Roof Coating?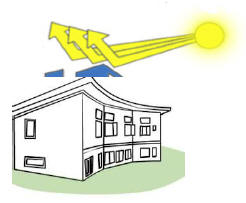 Ultra White Elastomeric Roof Coating is a tough, highly flexible, rubberized roof coating. This high performance, 7-year warranted elastomeric roof coating resists cracking and peeling. The coating also provides a highly protective barrier which reflects the sun's heat and destructive UV rays. This helps to cool roof surfaces and reduce interior temperatures. This product is an investment which can actually pay for itself in savings on cooling costs.
Highly-flexible, rubberized coating reflects the sun's heat and harmful UV rays
Reduces heat buildup and helps reduce cooling costs
For commercial and residential use
Resists cracking and peeling and will expand and contract up to 300%